I am thrilled to have Cheryl as our guest today. Cheryl wrote me a sweet little facebook note, thanking me for commenting on her lovely wedding pictures on The Wedding Pickle. So I asked if she wanted to share a bit about the music from her day and she said yes! Don't you love making connections like that? I do! So without further ado, here is Cheryl's story:
I married the love of my life, C.J. Rhody, on November 13, 2010 in Jupiter, Florida. We had a traditional, simplistic Christian ceremony in my husband's church (Church of the Good Shepherd, Tequesta, FL) followed by a tropically-infused, Key-West style reception at the Sugar Cane Island Bistro (Jupiter, FL).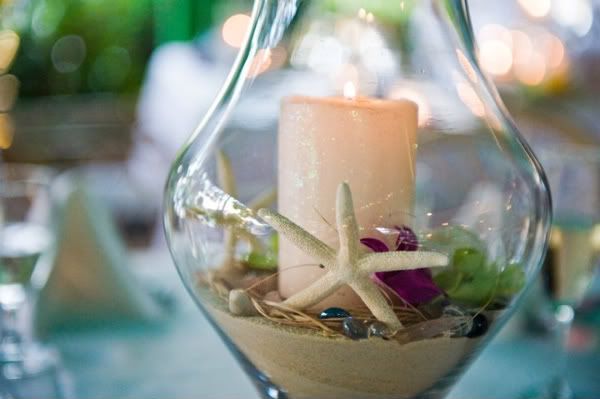 One of the best dynamics of our relationship is the fact that we are both light-hearted, playful and fun-loving. I was born and raised a spunky Midwest girl and my redneck Romeo (if you will) is a native Floridian with a liking toward all things hunting, fishing and football-related. My passion for the sand and sea lead me to the Sunshine State, where I met and fell in love with C.J….and the rest was history!
We both have a mutual love of country music. This naturally inspired us in our selection process. We wanted to choose songs with lyrics that were heartfelt, sincere and above all
relatable
. It can be quite difficult for a song to truly express how you feel emotionally, but I do believe our songs came pretty darn close.
My mother and I have both known for quite some time that my perfect Father/Daughter Dance would be set to the lyrics of "I Loved Her First" by Heartland. The song perfectly encapsulates the relationship a father and daughter have, specifically the relationship I have with my own father. My dad always has cheered me on in life, full-heartedly supporting (and often funding) my dreams and passions with an unparalleled confidence. This goes without saying, but my mother played an equally important role, the role of my best friend and confidante. She and I have enjoyed our own dances throughout life, although often to the beat of our own drums! Without the unconditional support, love and compassion my parents bestowed upon me and the upbringing they gave me, I would never have been able to become the confident, ambitious and kind-hearted woman (and wife!) that I am today. An added bonus? The lyrics were a perfect tie-in from our First Dance, "Look at the two of you dancing that way. Lost in the moment and each other's face." Blissfully perfect.
When it came to our First Dance as husband and wife, we unanimously agreed that we must dance to Big & Rich's "Lost in this Moment". And boy were we glad we did. The wedding was so magical, surreal and fairytale-like. This song perfectly captured those "once-in-a-lifetime" emotions we were experiencing as we said "I Do". The lyrics mention the Christian elements of a marriage, which was also incredibly important to us in planning our wedding The words to our first dance also describe "Watching all my dreams comes true, lost in this moment with you", which is
exactly
what happened.
Our wedding party danced to Hank Williams Jr.'s "All My Rowdy Friends Are Coming Over Tonight" which fits our cast of friends perfectly and is the ultimate Southern celebration song. Not to mention a great way to get the reception started!
The icing on the cake? As a wedding present to me, my hubby signed us up for ballroom dance lessons and even helped orchestrate the perfect routine for our song. For a former football player and avid outdoorsman, that is
unconditional love.
Photos by Alexi Shields, Palm Beach Wedding Photography
I'm so happy that Cheryl shared her story with us! What a beautiful wedding! You can see more beautiful photos from Cheryl and CJ's wedding via
The Wedding Pickle
: Part 1
here
and Part 2
here
.